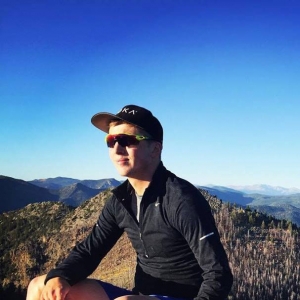 I love the sport, the culture, and the people in triathlon.
As an endurance sport athlete from a young age (beginning as a runner in middle school), I have since made a career out of helping others in triathlon and sharing my knowledge learned over many years of coaching and competing.
In high school, I competed in the 800m and mile, qualifying for the Iowa State Track Meet three years in a row. After high school, I tried to walk onto a collegiate running program, but battled with injuries, leading me to my current passion of triathlon.
I joined the triathlon team at Iowa State, and enjoyed not only racing, but also learning best practices from my triathlon coach in workout scheduling, periodization, and recovery principles.
After graduating from ISU, I gained experience working for one of the country's only USAT Certified triathlon shops and high performance coaching companies. Here, my love of the sport flourished.
I most enjoyed helping with group coaching programs, and also assisting individual athletes with training, technology, their equipment, and with any other questions, topics, or advice they required!
In 2015, I took a job at TrainingPeaks, a company that has set the industry standard in providing scientific tools and training technology platforms for coaches worldwide. This move took me to the triathlon hub of Boulder, Colorado, where I became fully immersed in the sport.
I began further developing and learning under a coach who introduced me to prominent, top-level training partners and coaches. I am continually striving to improve in the sport, and am working towards earning my pro card.
With a firsthand understanding of how to manage setbacks and reduce risks, I am an expert at delivering these lessons to motivated athletes of all levels. I can help you balance your training, and get results.
Certificates and achievements include:
Ironman 70.3 Worlds Qualifier and finisher 2016
8x Ironman 70.3 Finisher
USAT 3x Age Group Nationals Qualifier
Ironman Gold All World Athlete 2x
Half Ironman PR 4:28