Welcome to Track Cat Fitness!
We love helping people achieve their potential. If you share a dream with us, there will be no stone left unturned in our mutual quest to accomplish it.
We consistently coach endurance sports athletes to new levels of performance. Athletes who are motivated to achieve their goals and also really want to have fun and learn along the way are a great fit for Track Cat Fitness. Our passion for helping athletes get the results they want has been a catalyst for breakthrough performances from experienced podium contenders, world champ finishers and beginners alike.
At Track Cat Fitness, we offer virtual coaching services and we regularly coach driven, busy athletes remotely from all over including Alaska and the Caribbean.
Why Are We Called Track Cat Fitness or What's in a Name?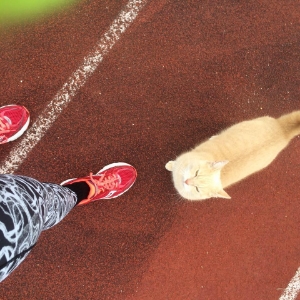 Meet THE Track Cat. He is a real cat. This little guy might not be a "great" cat by genus, but there sure isn't anything mediocre about him. He embodies our goals of inclusivity, consistency and genuine support.
When Coach Kelly was preparing for a half marathon she made weekly trips to a local track. Each week regardless of weather conditions this animal would consistently greet her as she arrived to warm up on "his" track and then he would observe
Learn more about the meaning in our name and how it aligns to our core values in our blog, here.